Founded in 1992
Enviro‑Mates
Founded in 1992, EMI International, Incorporated has grown from a small manufacturing concern to one of the world's leading producers of dust suppressants.
Operating as EMI International, we continue to manufacture our TC1210 DUSTNET in Pensacola, Florida, with blending sites and distribution terminals in Illinois, USA.
In Canada, we have blending, distribution, and warehousing options in Ontario.
Always cognizant of the critical role we play, our objective is to internationally provide major industries with quality products to address some of the worst environmental issues and health hazards they deal with daily, as well as bring them into compliance with federal regulations.
Moreover, we are more than simply a manufacturing company. With the assistance of specialists, engineers, advisors, and research and development experts, we continue to create new and improved dust suppressants designed to perform in many different industries and environments.
Our leadership in our industry is complemented by a commitment to not only provide quality products but exceptional, personal service to our customers. This we accomplish through our commitment to quality, health, safety, environmental responsibility, and consistent improvement accomplished with the assistance of many outstanding people.
DustNet
Application Systems
DUSTNET Application Systems, state-of-the-art technology, built by the world leader in fluid application systems are dependable, accurate, durable, and at 198 lbs., portable.
The calibration system consists of a calibration tube and check valve. The tube is constructed of lightweight resistant plastic and is virtually unbreakable.
Measured in ounces and milliliters, this system allows precise application of DUSTNET eliminating over or under-application, guaranteeing quality, and assuring the highest efficiency of product usage.
The plumbing is constructed of resistant polypropylene for extended life and features a built-in strainer assembly to protect the pump and lines.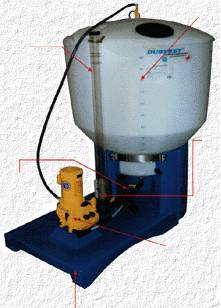 The 200-gallon tank is constructed of the same highly resistant polyethylene as the base. With a cone bottom, it is completely drainable, assuring no product waste, and is translucent for quick product level confirmation.
Each system includes an on/off switch with built-in motor protection. The switch not only gives a visual confirmation of the system operation, but also protects the motor from burn‑up.
The heart of the DUSTNET Application System is a 30/30 duplex, diaphragm, and Milton Roy metering pump. With 3/4" inlet and outlet check valves and accuracy of +-1%, all moving parts are submerged in oil for extended life.
The base, constructed of polyethylene, is resistant to most chemicals, harmful UV rays, and elements. Hand holds allow for easy lifting into truck beds or onto trailers. The base provides support for the tank, plumbing, and pump.